This guide will help you get started with load balancing and walk you through setting up your first FlexBalancer App.
FlexBalancer is a great way to manage your traffic between Multiple CDN providers, Databases, API's and more! This guide will help you create your first FlexBalancer App.
Step 1 - To get started, go to the FlexBalancer page from within the PerfOps dashboard.
Step 2 - If you have no FlexBalancer's currently created, you will see the following screen. Simply click on the button labeled "Create new FlexBalancer" to begin. If you've already created a FlexBalancer App, you will see a button on the top right of the screen labeled "Create new FlexBalancer".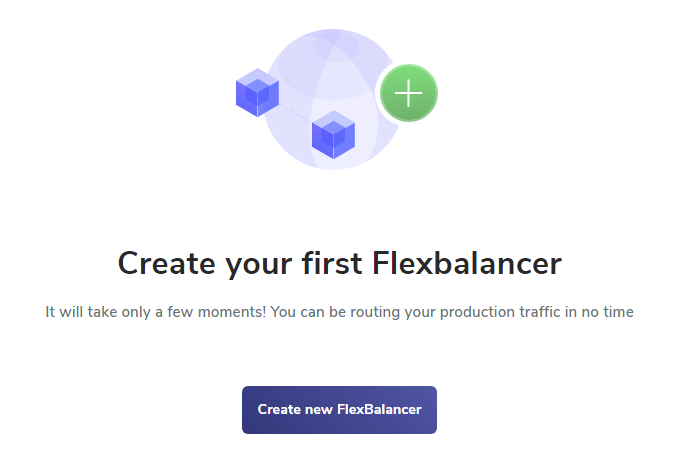 Step 3 - After clicking on Create new FlexBalancer. You will be taken to Step 1 of the setup process as shown below.
Name: Give your FlexBalancer a Name which will be associated with the hostname for your FlexBalancer. Once you're ready to send traffic to FlexBalancer, you can use the provided hostname or create a CNAME record that points to your hostname.
Description: Your description should be meaningful and help you identify the purpose of your FlexBalancer. Adding a description is optional and not required.
FlexBalancer Type: At this point you should choose if your FlexBalancer logic will be managed via our Smart UI or if you will adding logic via custom code which must be written in JavaScript. Remember that you can not modify the type after creation.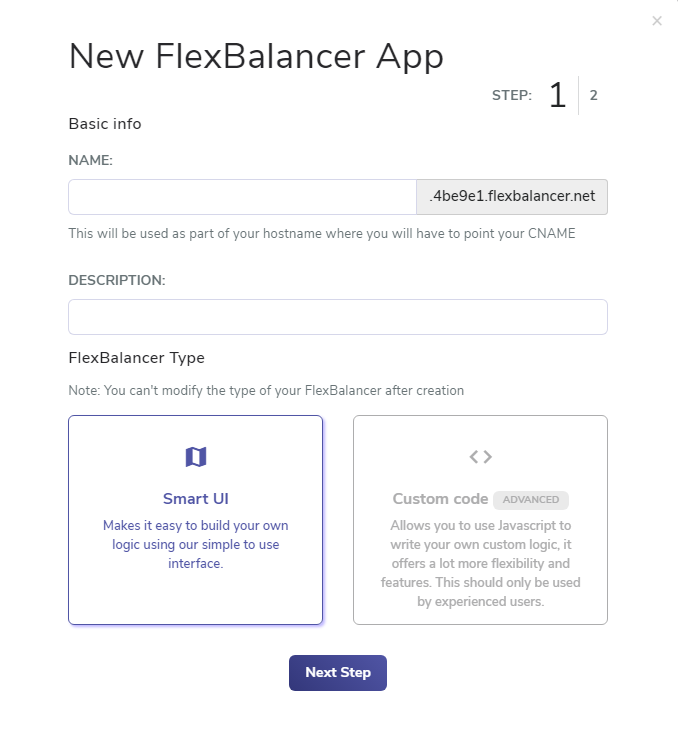 Once you've filled in the Name, Description (optional) and chosen the FlexBalancer Type. Click on "Next Step" to proceed.
Step 4 - In this step, you will configure a Fallback Domain as well as the DNS TTL for FlexBalancer Responses.
Fallback: The hostname or IP address entered here will be used as the Fallback response if FlexBalancer encounters a problem or your settings do not provide an answer for a specific request.
TTL: The DNS time-to-live for FlexBalancer Responses. This is the time you tell your DNS resolver to cache responses from your FlexBalancer App. A higher TTL will keep your FlexBalancer App response in cache longer and reduce the number of requests made from your DNS Resolver to us. A low TTL means less caching at the DNS Resolver. We've found a 10 seconds TTL to provide the best experience.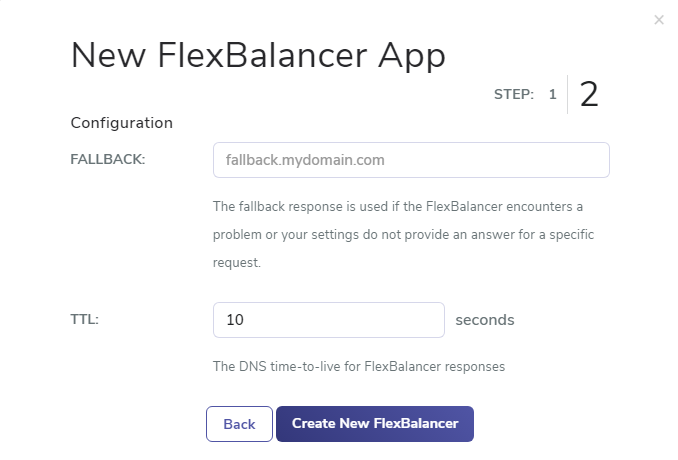 After you've defined your Fallback Response and TTL, click on "Create New FlexBalancer" to finish setup.
Congratulations, you've just created a FlexBalancer App and you're now ready to start adding logic to your load balancer. To continue, please check the "How to create a Smart UI FlexBalancer" guide.