Get statistics for CDN, Cloud, DNS Providers and your FlexBalancers
PerfOps Analytics page is the place where you can investigate all data gathered by our 'nodes' - servers worldwide (for DNS providers/resolvers and Cloud providers) and via RUM (Real User Monitoring, the data collected with our script) for CDN providers. FlexBalancers users are also provided with statistics for their Balancers.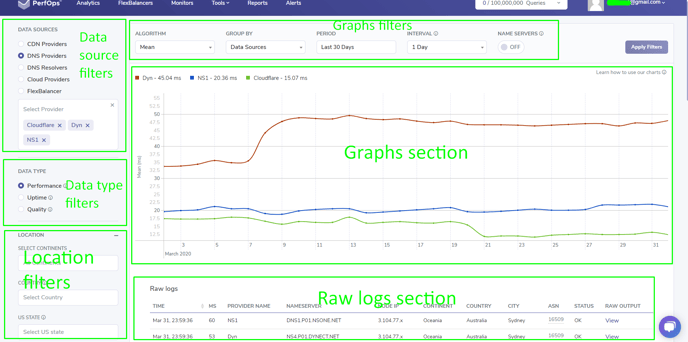 Let's briefly look at the sections shown above.
One important detail - after you change filters (selected more providers of decided to group by countries etc) - you must apply that filtering rules with the appropriate button: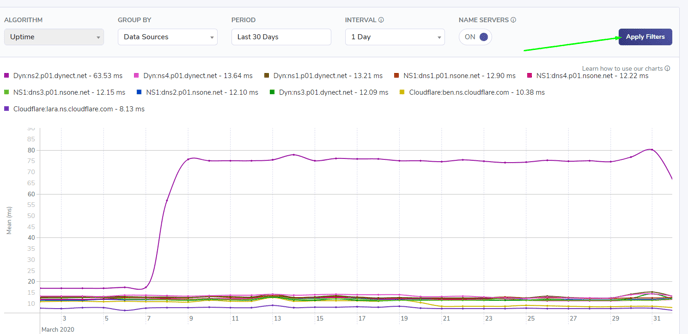 The Data source filters section allows you to select types of providers/balancers and select particular or all providers to show their statistics.
CDN Providers: you can select any of CDNs that are monitored with PerfOps Real User Monitoring (RUM). Select providers from the list, if none are selected - ALL providers will be shown: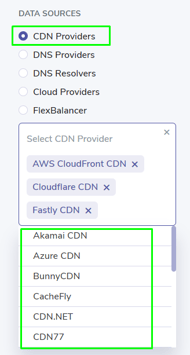 DNS Providers (Authoritative DNS servers), if none are selected - ALL will be shown: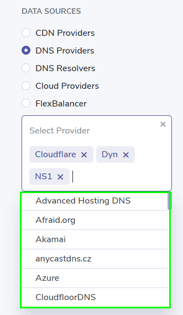 DNS Resolvers and Root servers, if none are selected - ALL will be shown: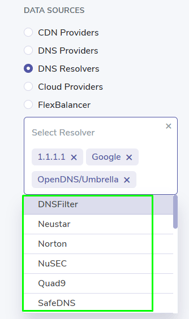 Cloud Providers, if none are selected - ALL will be shown: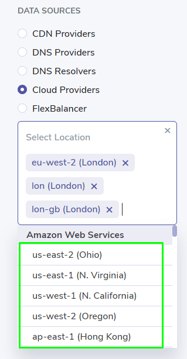 FlexBalancers: only your balancers (if any) are shown and can be selected: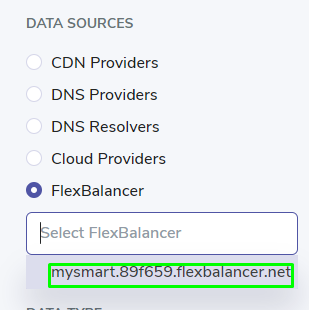 Data type filters section, you can get more information by clicking 'i' icon to the right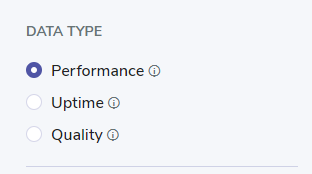 Each provider type has own available data types:
CDN Providers: Performance, RUM Uptime, Cache ratio;
DNS Providers, DNS Resolvers: Performance, Uptime, Quality;
Cloud Providers: Performance, Uptime;
FlexBalancers: Queries (queries number).
Location section. Here you can select desired location for filtering: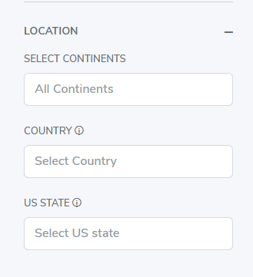 Continents (shows World data if not selected):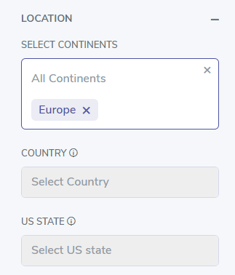 Countries and the USA states (only the USA states are available).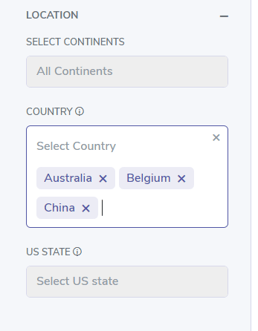 Notice: You can not select countries if a continent is previously selected, so remove the previous continent selection if you need country-based filtration.
Graphs filters and graphs section.
You are able to filter data by graph algorithm (Mean, Median etc), group data by countries: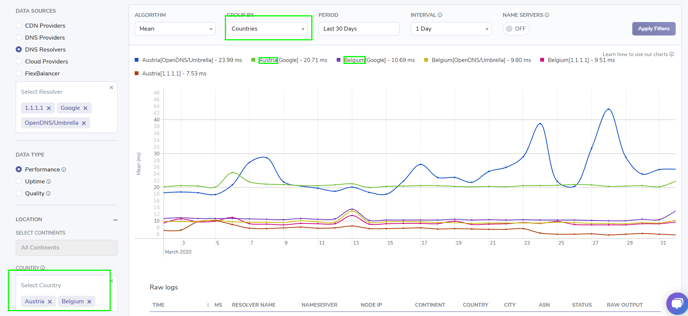 You also can group graphs by Name Servers (the screen below show graphs with Country+Name Servers grouping):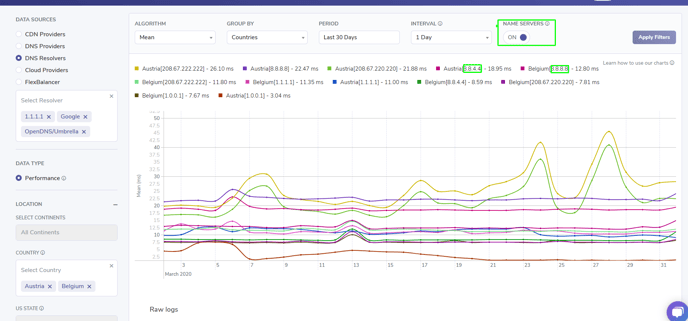 On mouse over you can see graphs values ​​in a certain period of time: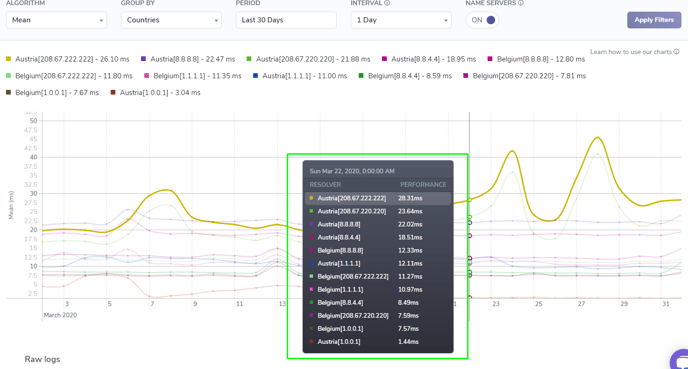 You can also Zoom in/out your graphs and change Time Periods and the Interval ("the step"), but a this functionality is cut for the Essential plan users. You need Custom plan to take full advantage of these features.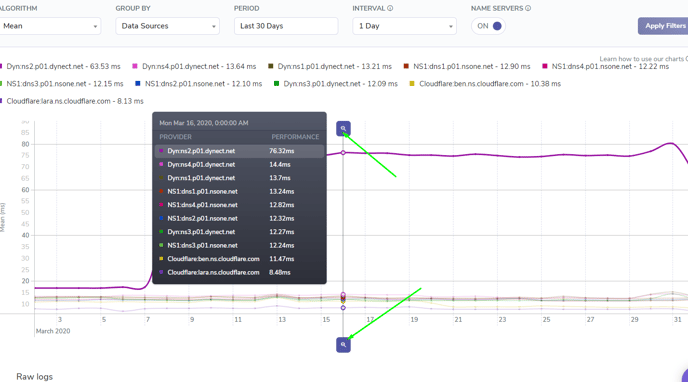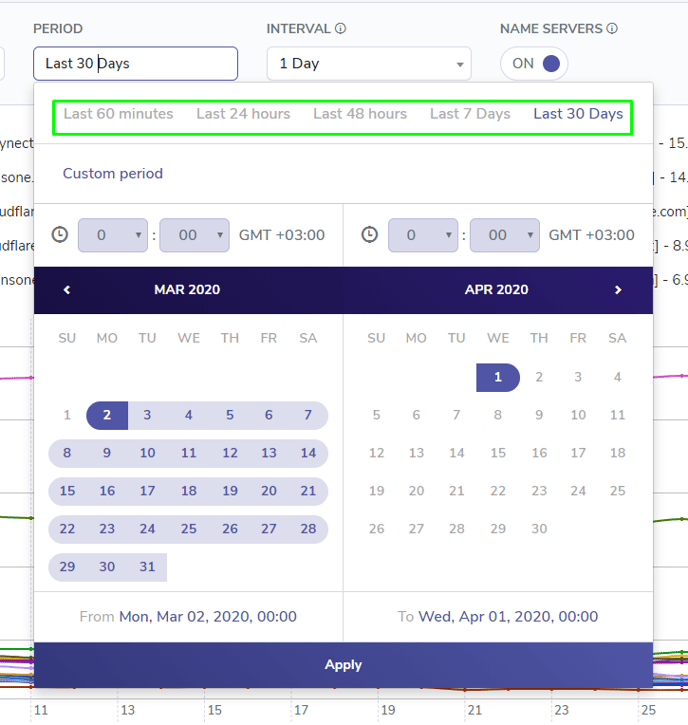 And, finally, Raw logs section. It shows raw data that we use to build our analytics. It's either collected from real users around the world (RUM for CDN Providers) or our servers worldwide data (other type of providers) or request to your FlexBalancer.