Create new alerts and get notified when certain parameters meet
The case: you want to be notified when the daily performance of jsDelivr CDN in Europe gets equal or higher than 32 ms and when it goes back.
Let's create the Alert for this event. Visit the Alerts page, press 'Create new alert' button

and get the popup. First - fill in your Alert's name, we recommend to use brief alert description as a name, so you will not get mislead in the future.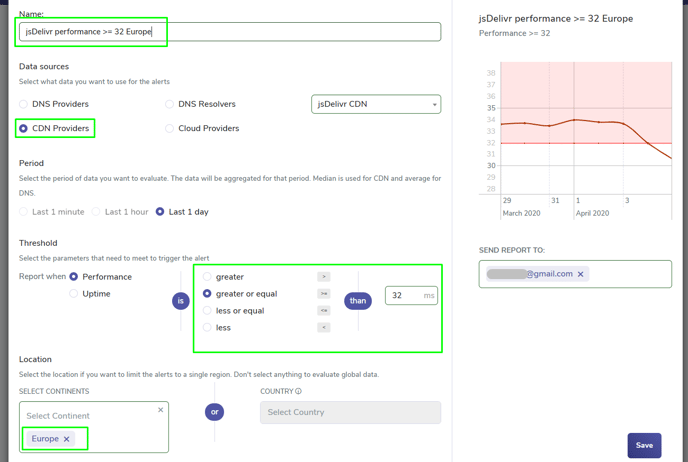 Then, select 'CDN Providers' at 'Data sources' section and the selector to the right will show you list of CDN Providers as its options, select jsDelivr CDN.
Essential plan users can only use 'Last 1 day' period, so nothing changes at the 'Period' section. If you want to use aggregated data for the last hour or the last minute - you should contact our Support team and change your plan to 'Custom'.
Now, at the 'Threshold' section, select Performance and the condition we have mentioned above: 'greater or equal' and 32, so all section can be interpreted as 'Performance is greater of equal than 32 ms'.
Notice that CDN and Cloud providers have 'Performance' (measured in ms) and 'Uptime' (measured in %) options, and DNS providers also have 'Quality' (also measured in %).
At 'Location' section select Europe at 'SELECT CONTINENTS' box.
And finally - check your email at 'SEND REPORT TO' - it is filled with your account email by default but you can change it or add another email address (more than one). Notice that you have graphs window above that email field - it shows you the actual PerfOps data for the provider you have selected and can be helpful when you determine the Threshold.
Now, press 'Save' button and the job is done: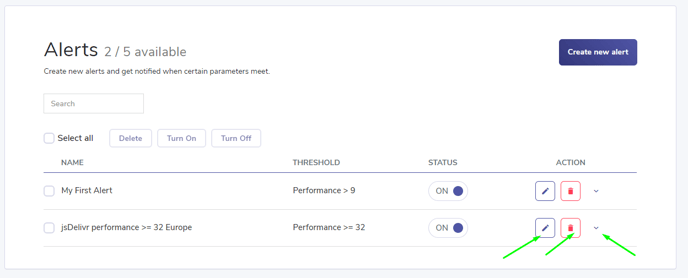 You can edit, remove and change the status of your Alert.

Also you can see the Alert details by clicking the small arrow to the right: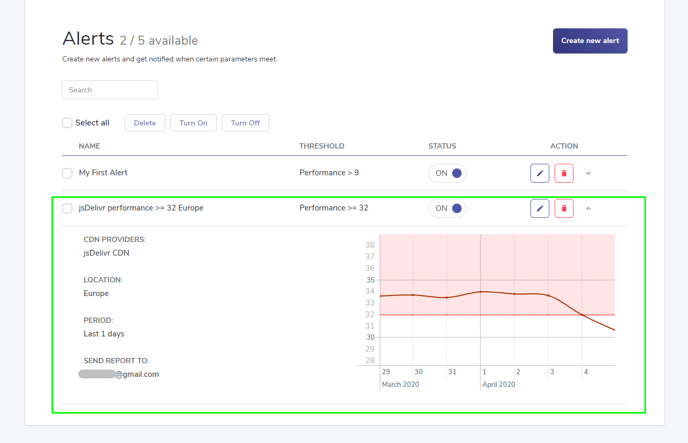 A couple of words regarding the editing process. You can see that there is a previously created alert, with name 'My First Alert'. This name is completely uninformative (we have created that on purpose), let's change it. We should press the editing button (with the pencil) and get the popup: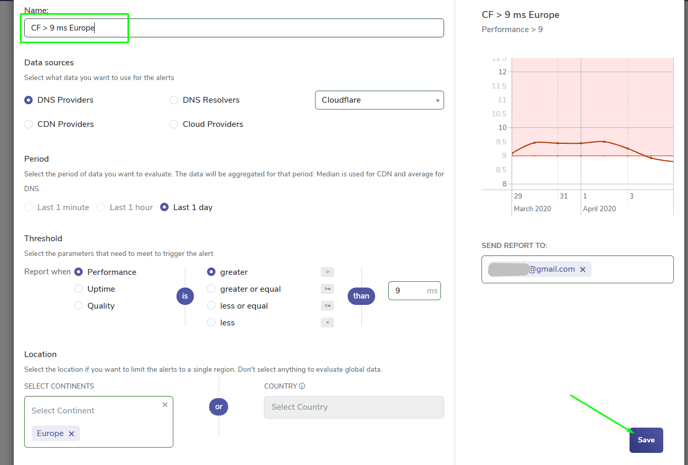 Let's change the Alert name to appropriate (we measure the Performance of the Cloudflare DNS, Europe, greater than 9 ms) and press 'Save'.

So, now you will be notified by email each time the Performance of the selected Providers (Cloudflare, jsDelivr) goes equal or above 32 ms (or above 9 ms for Cloudflare) and also when it 'returns back'.
You can have only 5 alerts ("Essential" plan), if you want to increase the number - contact our Support team and discuss the switch to the 'Custom' plan.